Certifying Acceptance Agents
HQ TAX & FINANCIAL, THE FIRST & ONLY AUTHORIZED CERTIFYING ACCEPTANCE AGENTS IN PAKISTAN
HQ Law Offices LLP is a registered corporation in USA under the name of HQ Tax & Financial Inc. is first who are duly authorized by IRS in Pakistan region.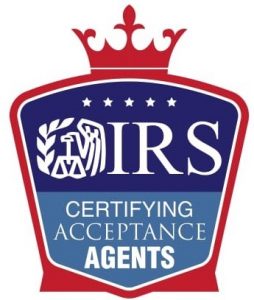 Differentiate  Between CAA & AA
"There is a clear difference between IRS Certifying Acceptance Agents (CAA) and Acceptance Agents (AA) as defined by the IRS.
Acceptance Agents (AA) can prepare your ITIN application but the original passport must be mailed to the IRS office located in the US, along with the ITIN paperwork. A regular Acceptance Agent (AA) does not have the authority to accept or deny the documents. The AA must submit your original documents to the IRS. This is an added hassle since there is no assurance of your passport being returned timely. Unfortunately, there have been cases where the applicant's passport was lost in transit.
We are a Certifying Acceptance Agent-CAA, authorized and certified by the Internal Revenue Service. This means that we have signed a contract with the Internal Revenue Service special ITIN office. DO NOT confuse us with an Acceptance Agent (AA) or basic tax preparer who has very limited or no authority at all.
However, CAAs are specially trained and authorized to verify the original documents, on behalf of the IRS, so there is no need to send your original passport. We are duly authorized by the IRS ITIN office to issue a Certificate of Accuracy (COA) certificates. The COA certifies that our office was presented with valid identification documents and that we, as CAA, have checked and verified the originality of the original documents presented and are satisfied with the authenticity so that the original documents need not be sent to the IRS.
 
On top of that, passports cannot be mailed from one country to another due to applicable laws. This not only saves you the hassle, it also saves your hard-earned money if you hire a licensed CAA and not a middle-man
WHY SHOULD YOU HIRE CAA ?